This post contains affiliate links. We may receive a commission if you purchase something mentioned in this post. See more details here.
If you like to fish, you may have it at home. Fish should not always be put on the pound, but you can also put your fish in the aquarium. The fish tank will also look more attractive so that you can use it as your home decoration. However, you have to choose the aquarium carefully especially for the size. 20 gallon aquarium will not enough for keeping all types of fish. Fish tank sizes can be categorized into three categories. You have to choose it depending on the space of your room and the amount of fish you have.
Fish tank sizes
Small Sizes
If you have a small space and a few numbers of small fish, it will be better if you choose a small fish tank. Small sizes if it has 2.2 up to 15 gallons capacity. The dimensions can be from 12 x 6 x 8 inches up to 20 x 10 x 18 inches. Besides, tank sizes for small capacity can load 3 to 22 pounds for empty weight and 27 to 170 pounds for filled weight.
Mid Sizes
Besides that, you can also consider mid-size. Aquarium sizes with a mid capacity offer from 20 up to 40 gallons capacity whereas the dimensions start from 24 x 12 x 16 inches up to 48 x 12 16 inches. In empty weight, it ranges from 25 pounds to 55 pounds and in filled weight it can be for 225 pounds to 455 pounds. Anyway, these mid fish tank sizes can be your option if you have a larger space and greater amounts of fish.
Large Sizes
If you need to fill your aquarium about 50 to 180 gallons, it means you need a large fish tank. Large aquariums have from 36 x 18 x 19 to 72 x 24 x 25 of the dimensions. Then, the empty weight can be from 100 to 338 pounds, and the filled weight is from 600 to 2,100 pounds. From those sizes, which size do you need for your fish tank?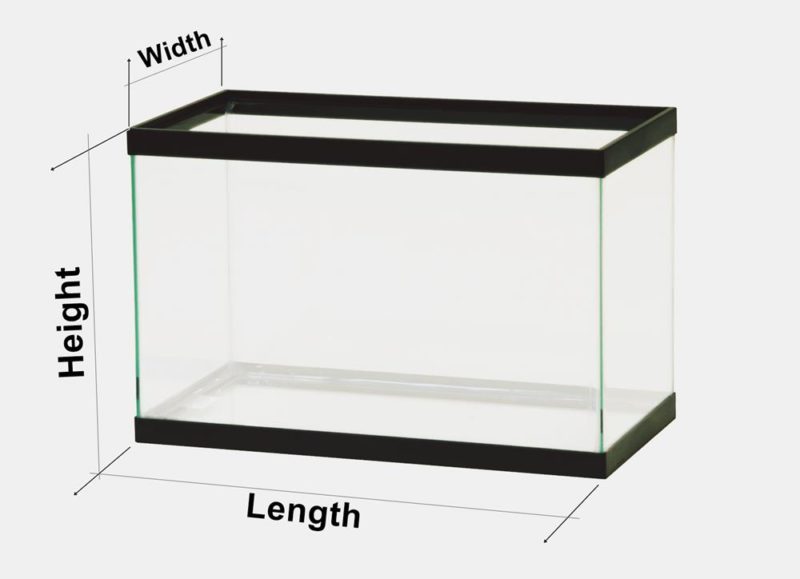 Below are a few of the most commonly found including fish tank sizes or fish tank dimensions (inches).
SMALL AQUARIUMS
Tank Size
Empty Weight
Filled Weight
L x W x H
2 1/2 gallon
3 lbs
27 lbs
12 x 6 x 8
5 gallon
7 lbs
62 lbs
16 x 8 x 10
10 gallon
11 lbs
111 lbs
20 x 10 x 12
15 gallon
21 lbs
170 lbs
24 x 12 x 12
15 gallon High
22 lbs
170 lbs
20 x 10 x 18
MID-SIZED AQUARIUMS
Tank Size
Empty Weight
Filled Weight
L x W x H
20 gallon High
25 lbs
225 lbs
24 x 12 x 16
20 gallon Long
25 lbs
225 lbs
30 x 12 x 12
25 gallon
32 lbs
282 lbs
24 x 12 x 20
29 gallon
40 lbs
330 lbs
30 x 12 x 18
30 gallon Breeder
48 lbs
348 lbs
36 x 18 x 12
40 gallon Breeder
58 lbs
458 lbs
36 x 18 x 16
40 gallon Long
55 lbs
455 lbs
48 x 12 x 16
LARGE AQUARIUMS
Tank Size
Empty Weight
Filled Weight
L x W x H
50 gallon
100 lbs
600 lbs
36 x 18 x 19
55 gallon
78 lbs
625 lbs
48 x 13 x 21
65 gallon
126 lbs
772 lbs
36 x 18 x 24
75 gallon
140 lbs
850 lbs
48 x 18 x 21
90 gallon
160 lbs
1050 lbs
48 x 18 x 24
125 gallon
206 lbs
1400 lbs
72 x 18 x 21
150 gallon
338 lbs
1800 lbs
72 x 18 x 28
180 Gallon
338 lbs
2100 lbs
72 x 24 x 25
*) all size fish tank dimensions in inches